Wooden flags are not only interesting art pieces, they are a statement that most decorations can't make (at least, I like to think so!). More and more, they've been gaining attention and growing in popularity, and if you're reading this, I bet you are considering getting one yourself. If you're still unsure or have some questions, we are here to help: here 10 reasons you should get a wooden flag from The Patriot Wood Work.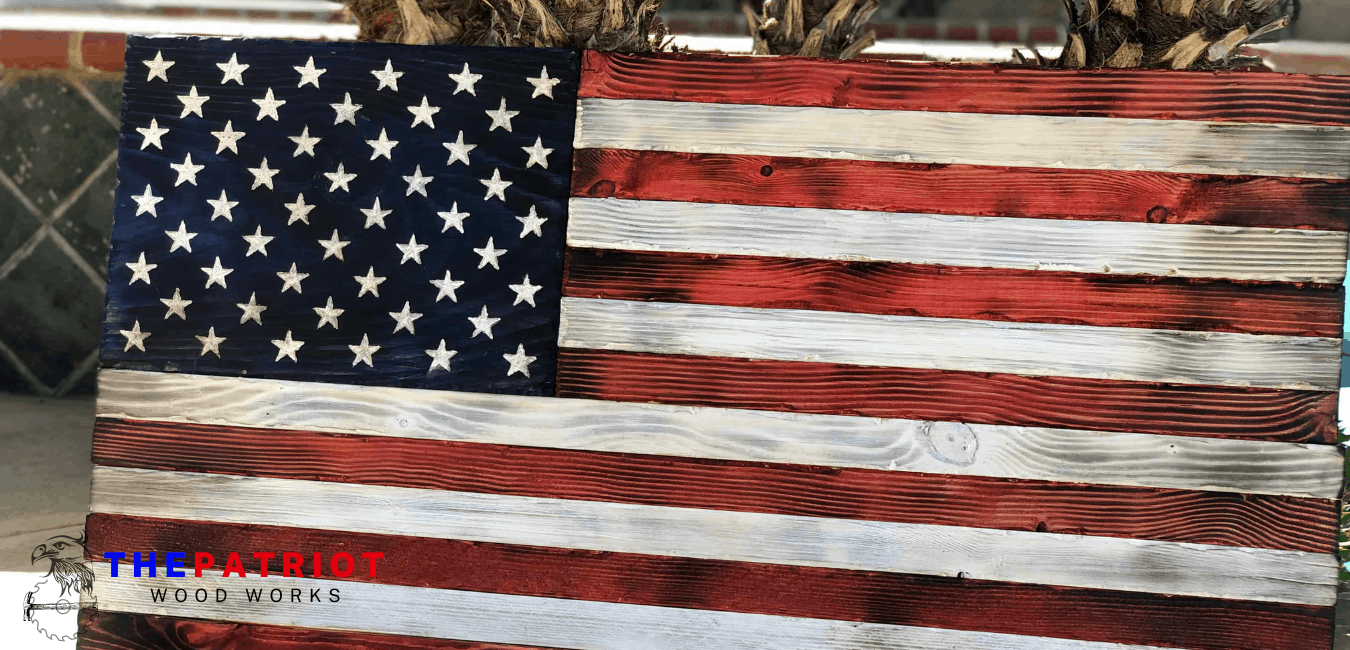 8 REASONS TO GET A WOOD FLAG FROM THE PATRIOT WOOD WORKS
1. 100% Hand Made For You By a US Veteran
The Patriot Wood work's flags are never mass-produced, we make them by hand when you order one. They are made right here in the United States. These are not your cheap, thin material store-bought flags made in China. You can rest assured that your flag will be made in America by American.
2. Never Ending Options.
You can browse our selection of existing products, we also love to work on custom projects. If you have an idea, you can work with The Patriot Wood Works craftsman directly to create the vision together. Whether you're looking for a creative gift, have an original design you'd like to see brought to life, or just want something truly unique, together we will bring it to reality. Head to the custom-orders page to get a custom project started today.
3. Your Flag Will Ship Quickly and For FREE.
The trouble with ordering handmade, custom products is that they can take a long time. That's not the case with The Patriot Wood Works. We know you're excited to get your flag, and we'll get it to you as soon as possible. Usually projects are completed in a week or less and ship within one to two days after completion. If you're running short on time, have a special event you would like to receive it for and still want to get a thoughtful, special gift, just let us know: we'll do our best to help you out.
4. Accuracy is our Priority .
Our design and construction process is precise, and we'll ensure your flag matches the original flag's design. We use nothing but high-quality tools and materials to ensure your flag appears exactly as it should without cutting corners for the sake of efficiency. If details are important to you, rest assured, we get them right or your money back. We stand firm on our 100% love it or return it model.
5. You Will Learn About Your Flag.
Flags and custom projects have more meaning when you know a little about them. We keep you updated through the construction process we use to build your wood flag itself. In the event you want to find other interesting facts about the flag's history and our process, tune in to this blog. We're constantly adding new products and topics here. So you are bound to find something interesting to read.
6. Other's love The Patriot Wood Works projects they received.
We stand by our work, and we're really proud of the feedback we've received from our customers. See what other people are saying about us:

7. You are our #1 focus.
Your happiness is our priority. If you're not satisfied with your flag, we will do whatever we can to make sure you are fully in love with your flag. We don't just want you to be satisfied: we want you to rave about your new flag.
8. 100% Veteran Owned - 100% Veteran Made
The Patriot Wood Works craftsman is a 10 year Combat veteran. Serving in the United States Marine Corps during the global war on terrorism in Iraq and Afganistan. Our craftsman has defended our flag with sacrifice and dedication. The same dedication he brings everyday that goes into the making of each flag. You and your flag are in good hands.
Visit our different product lines to get your own wood flag or personalized wall art. Whether you're looking for an American flag, a First Responder or Military flag (Link to this line), or a completely custom flag (Link to the custom order page), we're looking forward to working on your project.